No end to the problems in getting the Alliance back on a solid footing. The Wall Street Journal compiled a factual report on the disastrous financial performances of Renault and Nissan since Carlos Ghosn's arrest. The conclusions were indisputable: all indicators were in the red, forcing Nissan to announce a cost-cutting plan just a few weeks after issuing a profit warning.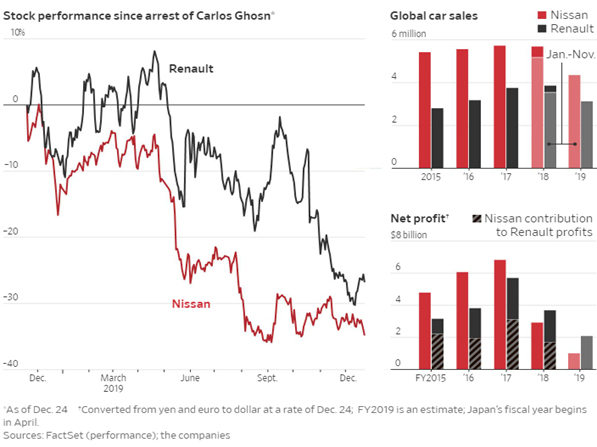 Governance problems were compounded by a "brain drain" that Nissan appeared incapable of stemming. Just a few days before the end of the year, Junk Seki resigned from the Japanese carmaker in a surprise move. He had been named COO in the triumvirate appointed to turn Nissan around but he decided to jump ship in return for a lower salary. According to Reuters, the lack of cooperation among the three people at the top of Nissan (Uchida, Gupta and Seki) was an open secret.
This resignation spoke volumes about the in-house climate of despair –notably among senior executives – of seeing any improvement in the situation.
And yet, the month of December had begun on a good note for Nissan. Following a warning from the Tokyo tax office over the non-declaration of deferred payments for Carlos Ghosn, Nissan was on the point of resolving the issue discretely by paying a US$20 million fine. This was the penalty recommended by the Japanese market authority at the beginning of December 2019. At the present time, the procedure has not yet been approved by the Financial Services Agency, which has the final say.
For the exact same offence, Carlos Ghosn spent 129 days in prison.