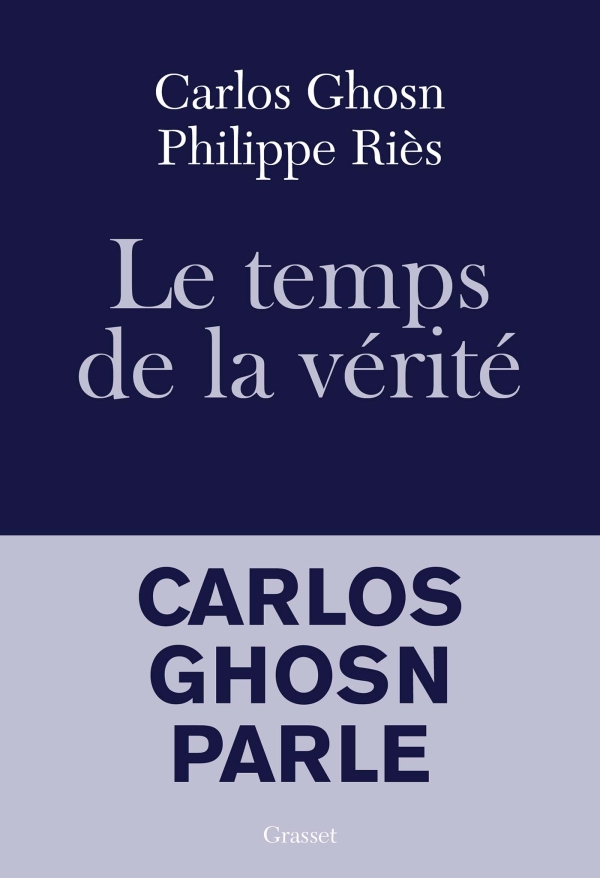 On the occasion of the release of the book "Le Temps de la Vérité", co-written with Philippe Riès, and to be published by Grasset on November 04th, 2020, Carlos Ghosn gave a series of interviews.
The opportunity for the magnate of the automotive industry to look back over his career, from the construction of the Alliance to his orchestrated arrest on November 19th, 2018 in Japan.
The Great Story – Le Point – 29 October 2020
Discover by clicking on this link how, in a long interview with Marie Bordet, journalist at the weekly Le Point, Carlos Ghosn looks back on the trap set for him by Nissan's managers and on how he lived through these ordeals.
Interview – Carlos Ghosn for Le Point – 29 October 2020
Photo credits: AMMAR ABD RABBO/ABACAPRESS for Le Point
Copyright text: Marie Bordet for Le Point
Interview in le Journal du Dimanche – 1st November 2020
The French newspaper of the 7th day, le JDD, publishes, in its edition of November 1st, 2020, an article on the current life of Carlos Ghosn in Lebanon and in particular his contribution to the University of Kaslik (USEK).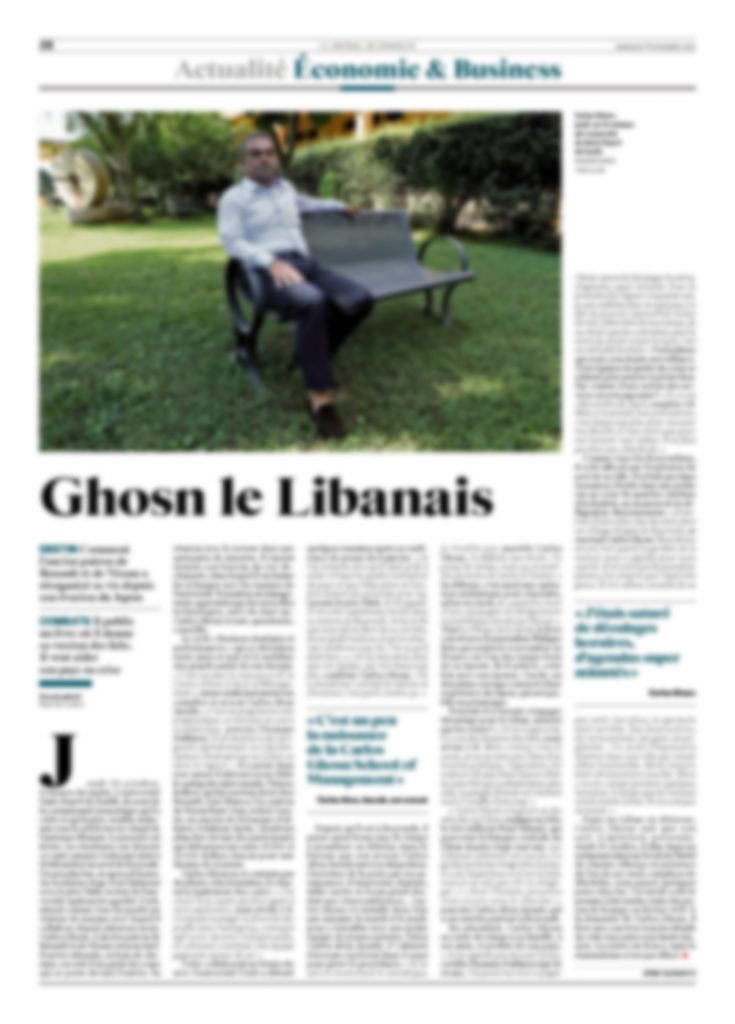 Interview – Carlos Ghosn for le Journal du Dimanche – 1st November 2020
Photo credits: Marwan TAHTAH for le JDD
Copyright text: Rémy Dessarts
Interview in le Figaro – 03 November 2020
It is to Bertille Bayart's questions, in Le Figaro, that Carlos Ghosn will then answer, both on the ordeal he went through, but also on his life in Lebanon.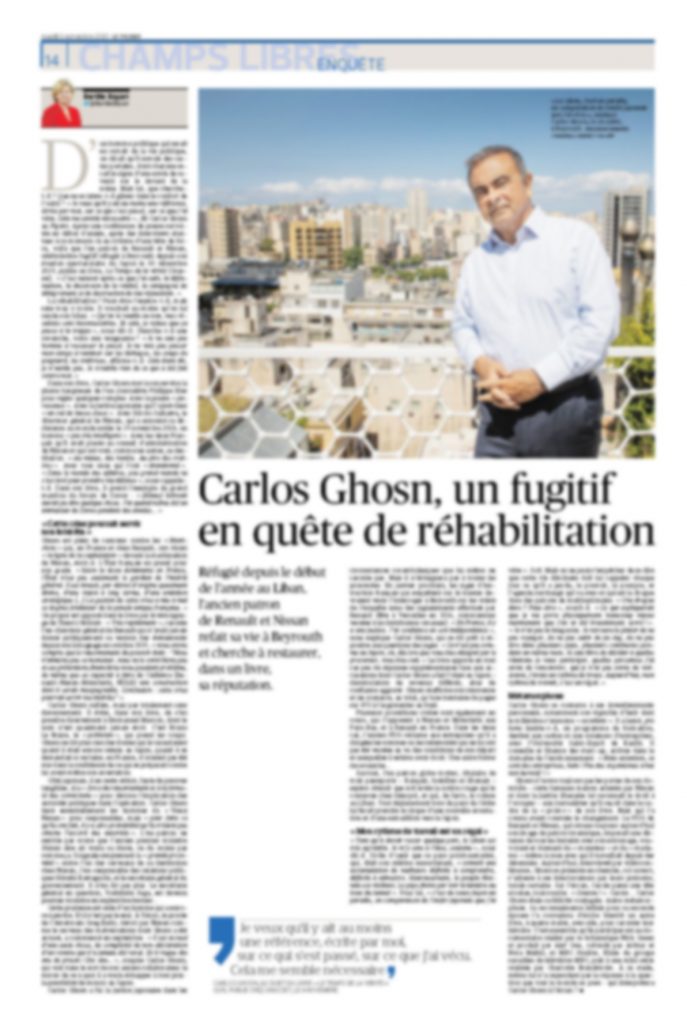 Interview – Carlos Ghosn for le Figaro – 3 November 2020
Crédit photos : LP/Olivier Arandel/PHOTOPQR/LE PARISIEN/MAXPPP
Copyright texte : Bertille Bayart pour le Figaro
Les Echos – 03-05 November 2020
In November 2020, les Echos will cover twice the publication of Carlos Ghosn's book: in the section "En Vue", and then in a column by Dominique Seux.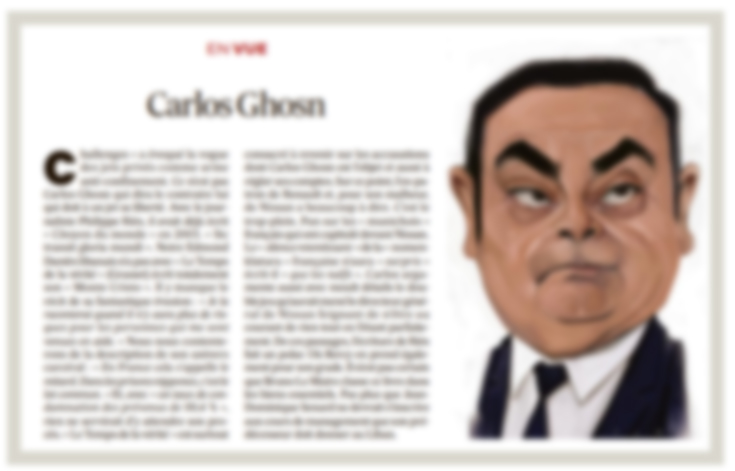 Copyright cartoon: ïoO
Copyright text : Sabine Delanglade for les Echos
Challenges – 04 November 2020
Then, on November 4th, 2020, Challenges magazine has also published a piece about Carlos Ghosn's book and more precisely on how the former boss of Renault-Nissan Alliance describes his carrer, his arrestation and denounces the abandonment of the French officials.
France Inter – 05 November 2020
In two minutes, on France Inter's radio, Dominique Seux dedicates the daily economic column to the book "Le Temps de la vérité".
Interview – Sunday Times – 15 November 2020
After a long interview between Carlos Ghosn and the Sunday Times, the newspaper gives the details of the plot set by Nissan executives and how Carlos Ghosn left Japan.
The book
Carlos Ghosn has co-authored the book with Philippe Ries: "Le Temps de la Vérité, Carlos Ghosn speaks".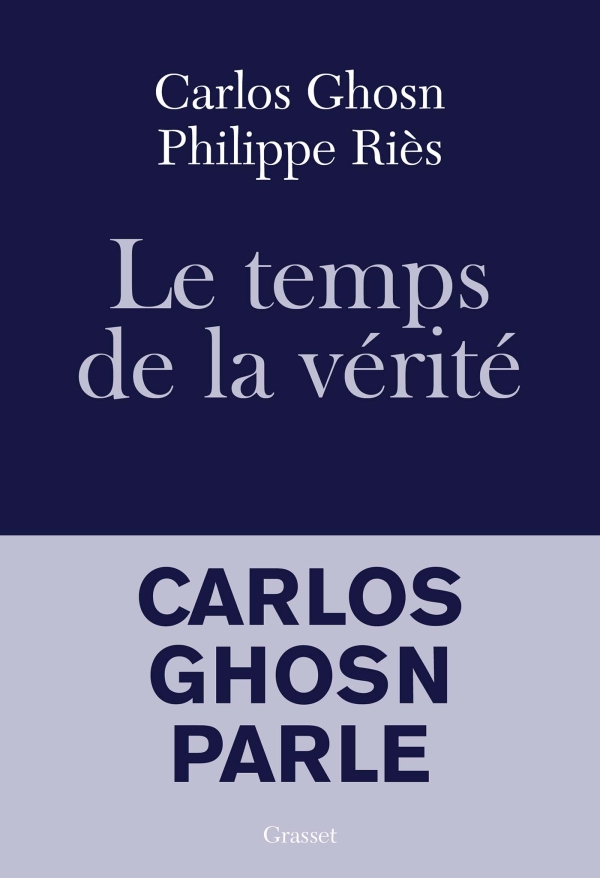 This event-book, is aimed at explaining the ins and outs of this economic, judicial, politic and personal drama.
-A personal and family tragedy: celebrated in Japan for saving Nissan from bankruptcy in 1999, the man who enabled Renault to achieve the best results in its history, is transformed from one day to the next into an outcast, torn from the world and his family. And victim of a violent smear campaign orchestrated worldwide by the "Old Nissan" and the Tokyo Prosecutor's Office.
-An industrial tragedy: the Alliance, the world's leading car manufacturer in volume in 2017 and 2018, is beheaded, plunged into a deep crisis, with company share price sinking, at the very moment when the global automobile industry is facing an unprecedented technological revolution.
-A political-judicial thriller: this case involves political power at the highest level in Japan and France and describes a Japanese judicial system closer to that of a totalitarian regime than to that of an advanced democracy. At stake is the future of an industrial complex employing more than 450,000 people worldwide in 120 factories.
From the motives of the internal coup d'état that led to the fall of Carlos Ghosn to the question around his compensation, his management methods and his vision of the future of this major industry, all issues are addressed here. In order to understand what has already happened and can still happen.