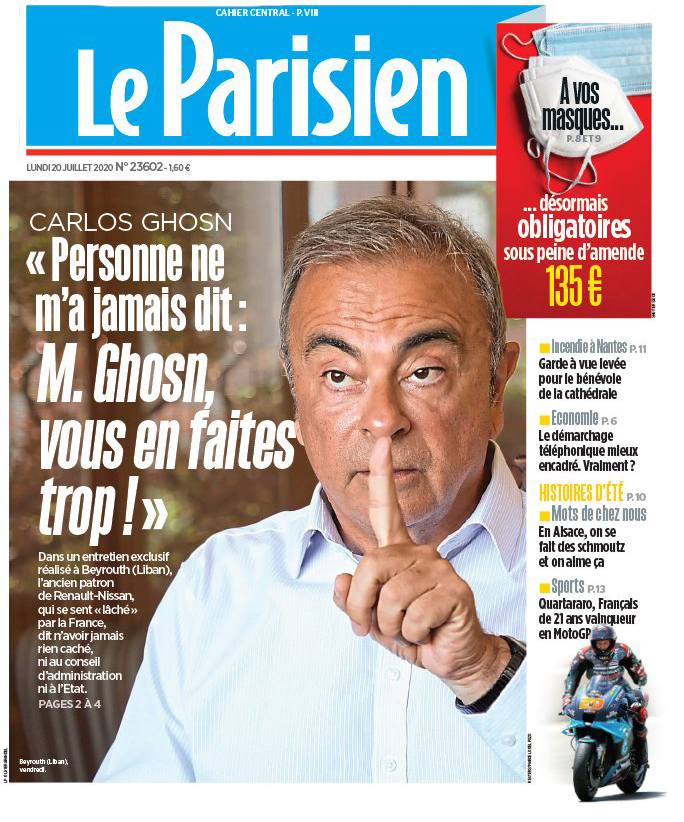 It is during the summer of 2020 that Carlos Ghosn will give two major interviews to continue to claim his innocence. Since the January press conference in Beirut, the media have tried to report on the daily life of Carlos Ghosn who remained silent since the beginning of the year.
It is from Beirut that the former head of the Renault-Nissan-Mitsubishi Alliance first responded to Al-Arabyia's invitation on July 12, 2020:
Carlos Ghosn notably reminds that he continues to protect those who helped him and that he will not comment on how he left Japan. However, he commented to the lack of support from the French authorities by stating:
"They provided support for the first month. I think this support should have been better. An official told me that if he had been the French President, he would have got me out in 24 hours. The American ambassador in Japan told his French counterpart that if I had been president of an American company, I would have been out in 24 hours"

Carlos Ghosn – Al Arabiya – 12 July 2020
Carlos Ghosn also specified, on this occasion, that a small group of people have remained loyal and faithful during this ordeal and that he will not forget them.
Then, in the columns of Le Parisien, on July 19, 2020, Carlos Ghosn continues to express his version of the facts while also commenting on current events in the automotive industry. The opportunity for the former boss of Renault to defend his balance sheet at the head of the company:
"I am proud of my legacy, which is known to everyone including the shareholders, the State, the trade unions, the media… From 2005 to 2018, in thirteen years, the French company has become a global manufacturer, established in markets of the future […] The last five years of my mandate are the best in Renault's history, both in terms of growth and profitability"

Carlos Ghosn – Le Parisien – 19 July 2020
Carlos Ghosn continues to claim his innocence and denies the charges brought against him by the Japanese courts.