Versailles 1:
On February 7, 2019, Renault announces in a press release that the Group is still investigating an expense of 50,000 euros attributed to Carlos Ghosn. This particular verification started on November 23, 2018.
The expense represents rental fees for the Palace of Versailles in October 2016.
As his French lawyer Jean-Yves Le Borgne points out, "Carlos Ghosn paid for all the expenses […]. The event space at Versailles was made available to him without charge. Renault did not have to pay anything, and Mr. Ghosn was unaware that the use of the space would be charged against Renault's allotted usage".
Le Figaro, source of this information, also draws attention to the fact that the mention "complimentary" was written on the invoices that the Paris Match published in January 2020. It is therefore a question of legal interpretation, subject to verification, since this mention may suggest that the offer was made directly to Carlos Ghosn by the public establishment.
Carlos Ghosn was unaware of the invoice sent to the service provider who organized the event. Out of good faith, he even offered to reimburse the 50,000 euros in rental fees to clear up this misunderstanding.
The rental fee was deducted from the value of Renault's sponsorship agreement with the Palace of Versailles. This is what prompted the audit, even though there was no payment from Renault.
Versailles 2:
The next day, on February 8, Renault probed into a second celebration in Versailles: the 15th anniversary of the Renault-Nissan-Mitsubishi Alliance on March 9, 2014.
His lawyer, Jean-Yves le Borgne, explained that this event had nothing to do, except for the date, with Carlos Ghosn's birthday:
"It wasn't a birthday party. The fact that this professional dinner was held on March 9 is just a coincidence. In fact, the invitation was sent by Carlos Ghosn as Renault's chairman to celebrate the Alliance's 15th anniversary. There was no birthday cake and he made a speech about the Alliance."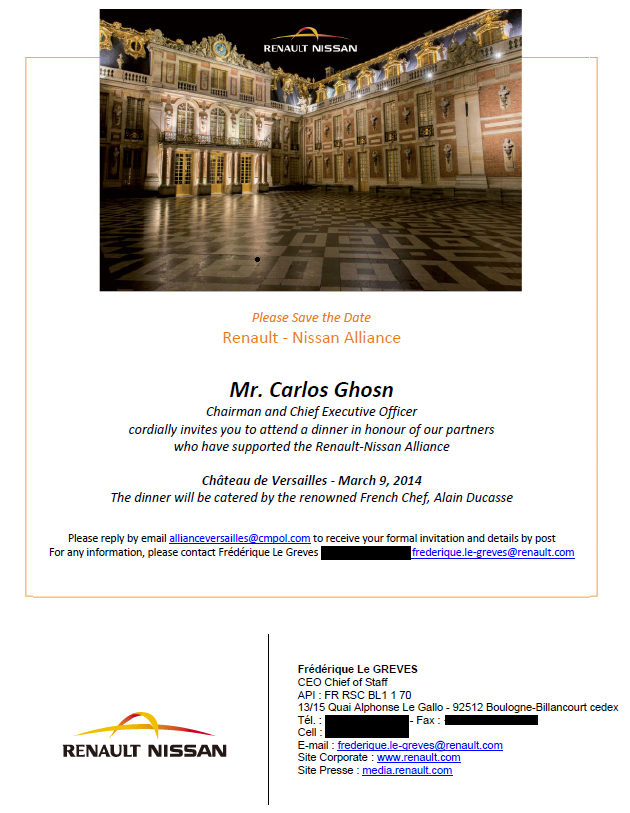 However, after 3 months of audits, this second event has not been reported to the authorities.
It was also announced that an audit by the firm Mazars was currently underway regarding RNBV: the structure that oversees the Alliance.
Retirement:
On February 12, Renault issued a press release stating that Carlos Ghosn had resigned from the Group, but that he retained his office as an executive of Renault SA, and that he was still a member of the RNBV board of directors.
Carlos Ghosn has not resigned but has, however, asked to assert his pension rights. He is, in fact, unable to carry out his duties due to his detention in the Kosuge prison.
This is where the whole legal battle over Carlos Ghosn's pension rights starts.
The following day, on February 13, Renault indicated through another press release that its board of directors waived Carlos Ghosn's non-competition clause, and thus the payment of the corresponding indemnity.
The governance body also considers that the attendance requirement is not met and that, as a result, Carlos Ghosn cannot claim the performance shares he was entitled to if he had to leave the company.
However, this is only one interpretation. As for Carlos Ghosn, he claims that he did not resign through his letter sent on January 23, but rather asserted his pension rights. This is exactly what Renault's communication of these two days in February is arguing. Each defending his position.
Issues that will therefore have to be dealt with in court.